Article Reprint: "Ella Gardner: Farm Woman's Life, Artist's Eye"
By Jane Fyksen, August 14, 1997, Reprinted fromAgri-View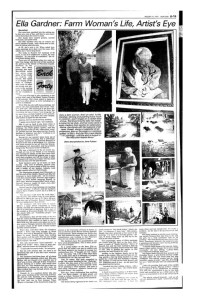 Her eyes have squinted into the setting sun to stay on a row of hay and cheap jerseys they've seen more calves born than she cares to count. Her hands have canned pickles, carried feed pails and piled wood. But Ella Gardner also has an artist's eye and a painter's hands–and a deep need to capture on canvas what she sees.
At 83, she's seen a lot. When asked how many paintings she's done over the years, Ella admits she's "never kept track."She looks to wholesale nfl jerseys Russell, her husband of 60 years, to see if he might have a guess. He only chuckles. "It's too hard to remember!" the retired dairy farmer grins.
There are 147 paintings alone in a solo exhibit that hangs until the end of this month in the gallery at the library in Wisconsin Rapids. However, in the years she's been painting, this rural Marshfield artist has given away many of her works to family and friends. Her talent is on display at the bank in Granton. And every so often she brings new pictures to the nursing home in Marshfield for the residents to enjoy.
Last year Ella had a solo exhibition in the gallery that's part of the Mabel Tainter Theater in Menomonie. She's been asked to hang her collection other places as well, including at a gallery in Oshkosh.
While Ella has sold many paintings, she admits she isn't particularly fond of the "business part of it." She used to go to art shows before Russell and she retired from the farm. But even then, she says, it was a "very tiring day" by the time they carefully loaded up her pictures, set up a display, took down the same display, and loaded up again for the trip home. Anyway, she was much too busy painting. "I paint every chance I get," she confesses.
Ella is just as hard to pin down when it comes to picking her favorite medium. "I do everything–the whole gamut, I guess," says this multi-talented artist of oils, watercolors, acrylics, pastels and ink. She notes that her favorite medium is whatever one she's working on at the present" happens to be.
Except for one summer many years ago at the Art Institute of Chicago, Ella is self-taught. A charter member of the National Museum of Women in the Arts in Washington, D.C.., Ella has won many awards for her art from the Wisconsin Regional Art Association, and has pictures hung in the Wisconsin Center in Madison.
She was a latecomer to the art world too. Though art was in her blood, so was farming. And raising her family on the farm came first. Ella basically ignored that nagging urge to paint until their youngest son left for college in 1964. As Russell will vouch, his artistic wife has made up for lost time over the past 33 years.
Both Gardners grew up on farms in Clark County–Ella west of Granton, Russell east. Russell was two years ahead of Ella in school, and a buddy of her brother. Initially, both taught country school in Clark County.
The Depression gripped rural Wisconsin, as did the rest of the country. Russell and Ella felt fortunate to have steady jobs–not to mention work they enjoyed. Ella, however, only taught a couple of years before marrying Russell. In those days, married women didn't teach school. Russell, however, taught 12 years, even after Ella and he started farming.
Russell says he chose farming over teaching "for the security" it offered. And the Gardners wanted their children to grow up on a farm, as they had. "We felt they could learn the work ethic," says Russell, who milked cows 41 years before retiring in 1983 at the age of 72. Their 125-acre farm was east of Granton. Russell reports that he never milked more than 25 cows.
The Gardners sold their farm to Amish. There's a large Amish community in Clark County, and Ella has captured the Amish way of life in a collection of paintings that is part of the exhibit in Wisconsin Rapids. The Gardners say Amish folk are "wonderful people" and good neighbors.
Nevertheless, they see the irony in the fact that the indoor plumbing and all of the modern conveniences they worked so hard to add to their farm over the years were taken out by the new owners. Fittingly, however, the Amish built a country school on the farm of these former country school teachers.
When they sold their farm, the Gardners bought a home and some acreage in Wood County, just west of Marshfield. While Ella continues to paint, Russell keeps busy tending their garden and big yard. Ella has also taught herself how to use a computer and thinks it'd be fun to explore "the web."
Ella calls Russell her "loyal supporter"–a "jack of all trades" who's "good at most anything" and who frames her paintings for her. "I can't take too much credit," he interjects. But his wife stresses that "it's hard to do something like this if you don't have someone backing you."
The Gardners had three boys, all of whom pursued higher education with a zeal. Ella says neither she nor Russell ever expected any of their sons to farm, although if they would have chosen farming as a career, that would have been fine too. They wanted each son to have an opportunity to choose his own life's work. All three worked their way through school, earning doctorate degrees.
Russell, Jr., is a medical doctor who also does some teaching at the University of Texas. He and his wife, Suzanne, live in Galveston, Texas. The Gardner's middle son, Wayne, and his wife, Ane, are in Port Aransas, Texas. Wayne is chairman of the department of marine science at the University of Texas at Austin, as well as director of the Marine Science Institute at Port Aransas. Their youngest son, Keith, also had PhD behind his name. He was in physical rehabilitation and working in San Francisco when he lost a battle with cancer in 1985. The Gardners have five grandchildren and three great-grandchildren. Two of their grandsons are art majors.
As a young mother on the farm, Ella explains that her artist's eye was in conflict with the sharp mother's eye needed to manager her rambunctious trio. "I 'thought art,' but I didn't do it," she notes. "Oh, I did a little when Russ was a baby, but I did it so intensely, I'd neglect everything else. So I let it go until later."
Like all artists, Ella feels compelled to create. She enjoys painting for the "challenge" it offers. She does most of her painting in her studio, an outbuilding on their property. Some of her painting is "from memory" and some is done using "references–whatever I need to get my point across," she explains.
Ella says "more challenging than anything else" are figure studies–to paint people and create a certain "feeling. If I feel like I've succeeded in bringing out a mood, I feel satisfied," she reports.
She doesn't keep set hours in her studio, but paints whenever "the mood strikes," which, she says, "is whenever I have time." Ella admits, though, that she's generally at her easel in the morning. "I'm more of a morning person," she says, of many, many years up and out to the barn at the crack of dawn.
Not surprisingly, many of Ella's paintings are scenes from her days on the farm. She's done a couple of "family favorites." One is of Russell, her, and the boys rushing to bale up the hay before brooding clouds dump their load of rain. Ella is driving the tractor in that painting, her hair flying in the wind.
Another is the Gardner family out in the woods in the winter. Ella and the boys are sitting astride a big log being hauled on a sled by a team that her husband is driving. The memory is vivid yet for both Russell and her. Lightning struck a tree–an old giant that was about four feet across. "I worked two days cutting it down–with a crosscut saw in those days," the retired dairyman recalls. A third treasured painting is of their farmstead. (Many of Ella's subjects are scenes from everyday life on the farm.)
"Usually I have something else I want to paint before I get done with the one I'm on," this dedicated artist confesses. "I have too many ideas and not enough time. It's really a problem–by the time I do my housework and canning."
Ella finds painting in oils the most challenging, merely because they take long to dry and she gets "in a rush sometimes with an oil painting." The slow-drying oils force cheap nba jerseys her to slow down. Sometimes, however, she purposely puts a painting aside because she is having problems with it and is dissatisfied.
"I usually finish them in the long run. Sometimes it takes awhile, though. But it solves itself eventually," she says, adding, "I think that's true of most problems, don't you?"
One figure study Ella did from memory is of Grandma Keuer, a grey-haired German neighbor lady whom she can recall from her own childhood. This elderly lady had an "inexhaustible supply of mints," ???? says Ella, describing her as a "kind old lady who was undaunted by age." Under the painting that's part of the exhibit in Wisconsin Rapids, Ella has written, "I feel I have captured to my satisfaction, an intenseness that she represented to me as she both awed and in mystified me as a child, and as she now is an inspiration Dallas to me as age creeps upon me."
This plucky retired farmwife–with an artist's eye and painter's hand–is herself an inspiration.
© 1997, Agri-View